It's finally here and with fall's arrival comes cooler temperatures, lots of great comfort foods like soups and stews. Time to start thinking of crockpot cooking.  You can get all the nutrients you need from a delicious nutritious bone broth or warming soup such as carrot ginger, roasted red pepper, thai red pepper, chilli with cinnamon.
Add a few spices and fresh herbs, a dash of cinnamon, a pinch of cayenne pepper, some fresh chopped dill. It's easy peasy to enjoy fresh nutritious soups and stews filled with lots of flavour and enjoyed from your view from your balcony or patio.
Interested in adding some spice to your suite. Start with adding some colourful fall foliage, a few leaves, some dried twigs and voila you'll have a creative centerpiece to add a pinch of nature to your dinner table.
As fall approaches you'll be eating fresh hearty soups and stews to warm your heart. A slow cooker or instant pot works well to create a batch you can freeze and thaw as needed.
Here is a super simple recipe to make in the comfort of your suite. And easy for busy folks on the go. Take it with you to a potluck or to enjoy while you walk around the courtyard.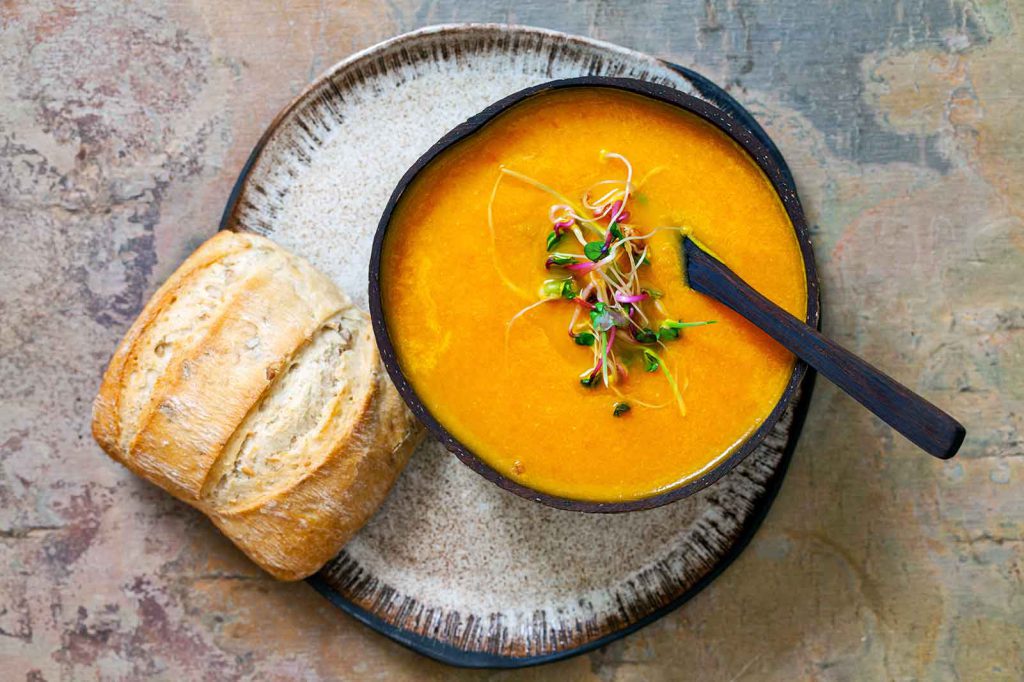 Carrot Soup
La Zuppa di Carotte della Linda
Carrots are rich in beta-carotene, a carotenoid pigment found in many orange fruits and vegetables. Beta-carotene is an important precursor for vitamin A. An extreme lack of vitamin A can cause blindness. In fact, in the developing world, vitamin A deficiency is the leading cause of blindness: (source WebMD)
Try adding more sweet potato, squash, pumpkin, and oranges to your diet.
This recipe for a hearty carrot soup is a great way to get your beta-carotene
Carrot Soup  (La Zuppa di Carotte della Linda)
1 – 5lb bag of carrots (organic if possible)
Broth (either homemade or bouillon cubes)
Filtered Water
Dill fresh or dried
Sea salt & pepper  to taste
Garnish Options: a drizzle of pure virgin olive oil or fresh cream
Directions:
Wash and peel the carrots.
Cut them into small chunks.
Place them in a huge pot.
Cover them with the broth or the filtered water.
Note: If using the filtered water, add four bouillon cubes of your choice (vegetable or chicken)
Bring to a boil, turn the heat down to medium – low, place a lid on the pot and allow cooking until the carrots can be easily pierced with a fork. (about 25 minutes)
Take the pot off the stove and leave it to cool.
Once the mixture is cool, transfer the carrots and liquid in batches to a blender! Puree until smooth! The mixture should be thick and creamy! Adjust the amount of liquid for your desired consistency!
To serve: reheat the soup (zuppa) and add: either a drizzle of olive oil or sprinkle dill and fresh cream on the top! Serves 4
Buon appetito!
Recipe Credit: Linda Grossi
Just one more way to enjoy the adult lifestyle living at the Wellings.
Susan Stephen is the Vice President of Living Science Wellness Centre located in Stittsville. A Mind Body Spirit & Business Coach, UFH Unity Field Healing Practitioner, Relational Clearing Practitioner and a Business Transformation Advisor. To connect with Susan and her team: https://livingscience.ca/